Kamata Black Spa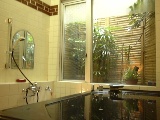 Kamata Black Spa
It is Na-hydrogen carbonate and chloride cold spa. Its pH is 8.28.
It is blackish brown clear, slightly salty, odorless bubbling hot spa. Its temperature is 17.6 degrees centigrade.
The spa differs from volcanic springs. It has full of natural blessings came from components of plants and leaves buried in Paleozoic time, merged into the groundwater.
Spa for Beauty
The charm of an alkaline hot spring is in the smooth touch felt when taking a bath,so especially popular among the woman.
It is nicknamed "Bijin no Yu" (Spa for Beauty).The feature of a Black Hot Spa is smoothen and rejuvenate the skin.

Spa of Heat
The characteristic of chloride spa is a salt film which is created by uniting components of salt and sebum on the skin surface and/or protein.
Since the spa is thermal, sweating stimulant action is expected. Also, the spa has effect on cold temperatures as well as the metabolic syndrome because heat retains after bating.
Feature of Black Spa
Kamata Black Spa with characteristics of beauty and heat is mildly alkaline. Since dark coffee-colored spa contains a lot of components of sodium hydrogen carbonate(NaHCO3),skin becomes moist and smooth after bathing.
It has excellent spa quality; your body becomes warm from inside and it continues for a while.


Attractions of bathing are neuralgia, muscle pain, stiff shoulder, motor paralysis, cold constitution, stiff joints, bruise, sprain, chronic digestive system disorder , hemorrhoid, convalescence, fatigue, cut, burn injury, and chronic skin disease.

Contraindications of bathing are acute disease, active tuberculosis, malignant tumor, severe heart disorder, respiratory failure, renal failure, severe anemia, bleeding disorder, and other ongoing diseases.
*Undrinkable.

---
In front of the Kamata Station


Kamata in Ota ward, a gateway to Tokyo, locates about 20-30 minutes from the Haneda Airport by car
and is very convenient to go everywhere such as to Tokyo Station(25 minutes)and Yokohama Station(15 minutes)with Keihin Tohoku Line only(Without transfer).
Since Hotel Suehiro locates in front of the south exit of such Kamata Station, it can be the best position for business and sightseeing trip.
 
【Accses】
To Yokohama
[17 minutes]
●
To Haneda Airport
20-30minutes
●
To Tokyo
[19 minutes]
●
To Odaiba
[20 minutes]
●
To Shibuya
[23 minutes]
●
To Shinjyuku
[30 minutes]
●
To Ueno
[25 minutes]
●
To Shinagawa
[9 minutes]
●
To TokyoDisneyResort
[40 minutes]
●
-----------------------------
This hotel is located at front of KAMATA station of south exit,exiting the second building from the corner.
KAMATA station has two wicket. It is better to get access to the YOKOHAMA side exit.(oppsite side TOKYO)
and go straight ahead to the left side on south exit. If you come from TOKYO station ,
please take KEIHINTOHOKU line (blue line) bound for YOKOHAMA. KAMATA station is the number 8th.stops from Tokyo.
it takes 25 minutes. And please take the front cabin of the train for your own convenience.Exit is up stair -way.
KEIHIN TOHOKU LINE
--TOKYO-YUURAKUCHO-SHINBASHI-HAMAMATSUCHO-TAMACHI-SHINAGAWA-OOIMACHI-OOMORI-[KAMATA]-

---
Black Spa Hotel Suehiro in Kamata
8-1-5 Nishi-Kamata Ota ward, Tokyo 144-0051
Tel:03-3734-6561, Fax: 03-5711-7372,
E-Mail:suehiro@suehiro.co.jp
JR Kamata Station, in front of south exit (the second from the corner)
Tokyu Kamata Station, in front of south exit (the second from the corner)
Keikyu Kamata Station, 12-15minutes walk

---